Every year, approximately 65,000 undocumented students — born abroad but living in the U.S. without legal citizenship — graduate from U.S. high schools. And of this population, many dream of being a college graduate in the future.
If this sounds like you, here's good news: 427,000 undocumented students are currently enrolled in a U.S. postsecondary school, representing about 2% of all college students. This means that not only is college a possibility, but it's also a reality for almost half-a-million undocumented students nationwide.
If you're a current or future undocumented college student, this guide is for you: We've compiled a wealth of information designed to help you navigate each step in the process of finding, applying to, financing, and succeeding in your higher education pursuit. Below, discover a wealth of resources you can tap into to make your college dream a reality.
Getting In: Resources for Navigating Admissions
One potential obstacle causing anxiety for many undocumented students is the college admissions process. It's easy to understand why. It's during this process that applicants are required to provide a lot of personal information, which is something undocumented students are often, understandably, leery of doing. To help alleviate that concern, let's start with this very important fact: There are no federal or state laws that prohibit undocumented students from attending U.S. colleges or universities. That being said, it's critical that you develop a clear understanding of the qualifications and limitations — and potential hazards — that are part of applying for college for undocumented students.
With that in mind, here are a few important admissions factors to consider, along with a list of several useful college admissions-related resources.
Admissions Factors to Know
You will need to research admissions eligibility. Most states allow undocumented students to be admitted to their public colleges and universities, but some do not. The rules governing admission of undocumented students to private schools varies from school to school. And, of course, all applicants must meet the specific admissions requirements of each school they apply to regardless of legal or undocumented immigrant status. Therefore, you'll need to put some real time and effort into understanding the details of admissions eligibility for each college program you're considering.
You might not qualify for in-state tuition, even in the state that you live. Currently, 23 states and the District of Columbia offer in-state tuition rates for undocumented students attending their public colleges and universities — which means that most states do not. This fact can play a significant role in your choice of school because it is common for public schools to charge substantially higher tuition rates to students not considered to be in-state residents. More on this and other college-financing issues below.
DACA status may help you. You likely already know about Deferred Action for Childhood Arrivals (DACA) — a federal policy that protects eligible immigrants who first came to the U.S. as children from deportation and allows them to obtain a work permit. Generally, there are no advantages or disadvantages to DACA status when it comes to college admissions, at least in terms of public schools. (As mentioned earlier, each private school has its own individual admissions policies.) However, DACA status can have its advantages when it comes to accessing certain forms of financial aid.
Admissions Resources You Need
Getting Creative: Paying for Your Degree
Being admitted into a college program is a major step in making your education dreams come true. However, college admission means little if you can't afford to pay for that program. While it's true that financial aid resources are more limited for undocumented students, there are certainly funding opportunities out there. But you will have to do some research to find them. Great places to start your college funding search are at the financial aid offices at the schools you're considering and with the online resources we've listed below.
Financial Aid & College Funding: What You Should Know
You will likely need alternative sources of funding: We mentioned earlier that there are no federal or state laws prohibiting undocumented students from being admitted to U.S. colleges. Unfortunately, the same cannot be said when it comes to federal financial aid opportunities. The fact is that undocumented students, including those protected through DACA, are not eligible for federal student aid of any kind. As mentioned above, though, other forms of financial aid (including state government aid in some states) are available to otherwise qualifying undocumented students.
Scholarships and grants will be important, see below. Without federal student aid, other funding sources become much more important. These include scholarships, grants, work-study programs, assistantships and fellowships, etc. Information on a number of these sources can be found just below. Remember, there's financial help available, but you're going to have to do some work to find it.
Financial Resources & Scholarships
Legal Support & Advocacy for Undocumented Students
Legal issues regarding immigration status and state of residency can come up during the college application process and even during your college years. Finding and paying for legal representation can be difficult. Fortunately, there are many organizations out there that provide low-cost and sometimes free legal support to DACA and undocumented students. We've listed a number of those organizations, along with other legal and advocacy support resources, below.
Legal Aid and Advocacy Needs of Undocumented Students
What you need to know about the legal process for staying in the country as it pertains to students: If you were born in a foreign country and have no legal right to be or remain in the U.S., you are considered an undocumented immigrant. As an undocumented immigrant, if you are detained in the U.S. by officials, you'll likely be placed into the removal process and receive an immigration court date. And, barring the obtaining of legal status though one of the methods discussed below, you will likely be deported.
How to obtain and maintain DACA status (and whether or not you qualify): DACA is an administrative relief program that protects (at least temporarily) eligible immigrants who came to the U.S. as children from deportation. Obtaining DACA status requires application to U.S. Citizenship and Immigrations Services (USCIS). If you have yet to apply for DACA status, you can still do so. However, as of a Texas federal court ruling in July 2021 and a subsequent appeal, new DACA applications are prevented from being processed or approved. How long this prohibition remains in effect is not known. It's also important to note that applying for DACA for the first time now comes with both possible risks and benefits, so it is highly recommended that anyone considering initial application to DACA consult with an attorney or accredited representative before doing so.

If you currently possess DACA status, you're likely aware that you must file for status renewal according to your expiration date (found on your I-797 Notice of Action form and your work authorization card). You can now submit your renewal online. Detailed information on applying to and renewing DACA can be found on the USCIS DACA website.
Other avenues to residency and programs you should know about: There are several potential paths for undocumented immigrants to obtain a Permanent Resident Card (commonly known as a Green Card). These include, among others, marrying a U.S. citizen or lawful permanent resident, applying for asylum status, applying for a U visa, and service in U.S. Armed Forces. For complete information on Green Card eligibility and the application process, visit the USCIS Green Card website.
Legal Aid and Advocacy Resources
Need More? Additional Resources for Success
Looking for information on a subject not covered in the three sections above? Check out the general resources listed below, including national organizations that support undocumented students, where undocumented immigrants can find mental health support, and more.
Online College: Benefits for Undocumented Students
As an undocumented student, you face a number of legal, financial, and logistical challenges on your way to a obtaining a college education. To help mitigate those challenges, you may want to consider an online college program. Online programs are often less expensive, but they still provide the same academic quality as their on-campus counterparts. Most notably, you'll likely be able to avoid some of the risks that come with your undocumented status by attending college online. Here's a look at some of the specific reasons an online college program may be the best choice for you:
Affordability
As mentioned earlier, public colleges and universities in over half of all U.S. states do not allow undocumented students residing in those states to pay in-state tuition rates, which are often substantially lower than out-of-state resident rates. You'll find, however, that many of these same public schools now charge all students in their online degree programs the same low in-state tuition rates regardless of in-state or out-of-state residency. As a result, undocumented students can save significantly on their college costs by enrolling in online degree programs.
Access to More School Options
If you are undocumented and living in a state that prohibits you from admission to its public colleges and universities, online college programs from schools that do admit undocumented students provide you the opportunity to earn your degree without having to pick up and move to that school's state. And of course, if a degree in the academic field you're interested in is not available at a school in your state, it may be offered online from a school in another.
Ability to Study from Anywhere
Being able to log on and access your college studies at anytime and from anywhere (including in the privacy of your own home) is a major benefit to online college, regardless of your legal residency status. But it can be particularly advantageous for undocumented students. That's because online college programs eliminate the risk of public exposure of their undocumented status by traveling to and from campus and attending classes in person. Online programs additionally eliminate the need to relocate to a college town, another potential risk of exposure for undocumented students.
Ability to Balance School and Personal Life
Undocumented students are often without the luxury of being able to focus primarily on their college careers, instead having to balance their studies with other vital concerns such as family, earning a living, and – sometimes – legal matters related to their undocumented status. Online college programs, especially those delivered asynchronously, offer students a tremendous amount of flexibility, allowing them to better fit their academics into their already busy work and life schedules.
Mental Wellness as an Undocumented College Student
Mental health is an often-overlooked issue for college students. Given the tremendous pressure to excel in studies, all students attending college can sometimes feel tremendous stress. For undocumented students, however, the added stressors that come with your status can exponentially increase the need to prioritize mental health and well-being. It's why many colleges and universities provide special resources aimed specifically at supporting the mental and emotional needs of their undocumented students. In addition to those support services, there are many things you can do to aid in maintaining good mental health. Here are some of the most effective:
Connect with Other Undocumented & Immigrant Students
Being able to interact with others going through the same challenges that you're experiencing can have a tremendously positive impact on your ability to effectively deal with those challenges. And no one understands the unique challenges of an undocumented college student better than another undocumented student. Many colleges today are home to student organizations that bring undocumented students on their campuses together for mutual support. Examples include the Undocumented Student Working Group at Santa Clara University, the Dreamers Discussion Group at Marquette University, dreaMSU at Michigan State University, and the UndocuQueer and UndocuTrans support group at the University of California at Santa Barbara.
Take Advantage of the Resources Available to You
No matter what college you attend, there's no reason to feel like you're alone. Today, most colleges and universities are aware of the special challenges and needs of their undocumented student population, and they make a special effort to connect with and support those students. The same goes for the surrounding community. That doesn't mean, of course, that every school and community is equal when it comes to the resources they provide. But there are resources out there — you just have to search them out. Start with your own school's student services department (more on them below). You can also try connecting with one of the many national-level organizations described earlier in this guide, including Immigrants Rising, United We Dream, and TheDream.US.
Stay Connected to Your Family
Family conditions can vary substantially for individual undocumented students. Some students are surrounded by large, close-knit families, while others are alone with no other family members to support them. Often, they're part of mixed-status families. Additionally, being the first in a family to attend college (which is often the case with undocumented students) can lead to a feeling of isolation from other family members, even those in the immediate area. For all of these reasons, it's especially important for undocumented students to make a consistent and concerted effort to stay connected with family — when possible and if you have a healthy family dynamic — throughout your college experiences.
Get Involved in Your Community
The concept of "community" can mean two things here: The first is the community of your fellow undocumented students; the second is your local community, i.e., the city or town in which you live or go to school. In the case of your local community, there are a range of organizations and associations you can reach out to and participate in, including social, church, and community service groups. You can also get involved in organizations focused on activism and advocacy for your fellow undocumented immigrants. The bottom line is that it's all about connectivity, so connecting with other like-minded members of your community will help you feel less alone and feed your mental and emotional well-being.
Use Student Services if Needed
Along with student groups, many college campuses today strive to provide their undocumented students with a range of support services geared specifically for them. These services are sometimes combined and located on campus at a dedicated undocumented student support center or office. Lists and descriptions of undocumented student support services can often be found on dedicated webpages on college and university websites. Examples include these sites from Northern Illinois University, Whatcom Community College, and California State University Monterey Bay.
Take Care of Yourself
Good mental health goes hand in hand with good physical health. That's true for all college students, regardless of their immigration status. There's no big secret to maintaining your physical well-being, and recommendations include:
Eat a balanced diet.
Get regular exercise.
Eliminate – or at least mitigate – drinking and drug use.
Practice safe sex.
And — this is particularly important — get enough sleep.
One more thing to keep in mind: If you think you should see a doctor or other health professional, do not hesitate to do so. Most colleges today offer quality on-campus healthcare services you can access right away. If your school does not, its student services department should be able to help connect you with the health services you need in the surrounding community.
Build Your Support System
All of the above suggestions for maintaining your mental health are important, but they're meaningless if you don't put them into action. Good mental health requires consistent attention and practice. And in doing so, you'll find that you've established a strong support system of family, college, and community members that you can depend on throughout your academic career.
Interview with an Expert on Undocumented Students in College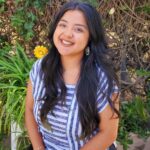 Luz Bertadillo Rodriguez
Luz Bertadillo Rodriguez serves as the project manager for state and campus policy initiatives at the
Presidents' Alliance on Higher Education and Immigration
. Her career began working in undocumented student programs in New York and California. Her professional and personal work has more recently focused on the merging of mental wellness and immigration through the founding of the UndocuChats Collective. Luz holds both Associate of Arts and Bachelor of Arts degrees in psychology from Mt. San Antonio College and UC Berkeley, respectively, as well as a Master of Social Work from Columbia University.
What advice do you have for undocumented students who are just starting their college journey and feeling overwhelmed or uncertain?

Don't navigate college alone and isolated. There is at least one other student on your campus who is going through a similar journey. Build a community and network composed of other undocumented students, an administrator who can serve as your champion, a staff member who can guide you, and a faculty member who can advocate for/with you. Be intentional about letting your needs be known to those that are meant to serve you. If there isn't a student club or program for undocumented students on your campus, find community through other venues such as Immigrants Rising Support Groups and Undocumented Professionals.

How can undocumented college students find a mentor or advisor who can provide them with guidance and support?

Some campuses have a dedicated staff that are trained to work and support undocumented students. For the most part, students can find their information on their campus website or by connecting with the undocumented student club. Additionally, sometimes these trained dedicated staff members conduct UndocuAlly trainings to the broader campus community and so students can find those that have received training to be their mentor or advisor.

Presidents' Alliance is launching a Communities of Practice Directory to identify, connect, and learn from practitioners, advocates, and leaders who support undocumented students across different states, institution types, and organizations. Students will be able to search for mentors and other staff that can support them in their state and/or campus. Stay tuned for our launch date!

Are there any restrictions on the types of majors or programs undocumented students can pursue?

Undocumented students, especially those without DACA, are ineligible for specific degrees/professional licenses that require state certification in certain states. In the Higher Ed Immigration Portal, you can find more information about the professional and occupational licensure policies across all 50 states and D.C.

Access to professional and occupational licenses is one barrier, but even those that have federal work authorization (DACA recipients) also face restrictions when applying to jobs that require US citizenship, such as some government jobs. For example, in California where there is comprehensive access to professional and occupational licenses — until recently in 2021 —immigrants with work authorization (DACA recipients, lawful permanent residents, etc.) were not eligible to work in Los Angeles County government jobs.

What are the options for internships, work-study programs, and other forms of career development for undocumented students?

Are there any resources or organizations that provide support for undocumented students in college?