A college degree often comes at a hefty cost for low-income students. Students who struggle to afford college are more likely to face financial worries, stress, and housing and food insecurity than their peers. Fortunately, many students overcome these burdens.
Qua'On Thomas, a low-income student at the University of Southern Florida, was concerned about how he would pay for college. Thanks to finding the right financial resources — which included the Pell Grant and the Florida Bright Futures Medallion Scholarship — he was able to make his dream of attending university and becoming a software engineer possible.
Perhaps your journey is like that of Qua'On. If so, you also have a variety of free or reduced-cost resources available to you as a low-income student. To make it easier to find them all, we've compiled a massive list of 40 impactful and effective resources for low-income college students. Get ready to bookmark this guide, take notes, and make your college dreams a reality.
Financial Aid Guidance for Low Income College Students
The average college degree in the United States cost $35,551 per year in 2020-2021, according to the National Center for Education Statistics. To help finance their degree, over 83.8% of students utilize financial aid. As a low-income student, you'll want to consider filling out the FAFSA and other free resources to access as many financial aid opportunities as possible. Below, find various financial aid options, services, and organizations that exist to help low-income students succeed in college.
Income-based Scholarship Opportunities
Over $46 billion in scholarships is awarded annually, according to the U.S. Department of Education. While you should apply to as many scholarships as you can, make sure to search for need-based scholarships. These scholarships are awarded based in part on your income level, making this a great way to finance part of your education. Below are just a few income-based scholarships you may want to consider.
Academic Support Resources
Because low-income students experience college in a different way than their peers, they are often overwhelmed or unlikely to access academic support resources. However, a 2023 study demonstrated that when they do access free academic resources, they are just as successful as their peers. To that end, here are seven resources to help you boost or maintain your GPA and level of academic performance.
Food and Housing Assistance in College for Students in Need
Worrying about where your next meal is coming from or where you'll sleep after class is something no one should experience. Yet 34-36% of college students face housing or food insecurity. These insecurities can make it harder to focus in class, participate in extracurriculars, and enjoy the college experience. Luckily, there are some free resources that can help, and the below suggestions are a good place to start.
Mental Health Support for College Students
Students with financial worries are more likely to experience insomnia, anxiety, and depression, suggests a 2021 study. But your mental health doesn't have to suffer. It is possible to maintain good mental health as a low-income student, and the resources below can help.
Other Resources for Low-Income College Students
While housing and food insecurity, financial aid, locating need-based scholarships, and mental health conditions are some of the biggest challenges low-income students face, they aren't the only ones. To help you navigate other challenges, explore the resources below.
Expert Interview: Support for Low Income College Students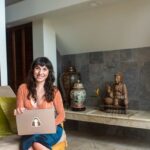 Felicia Keller Boyle
We sat down with Felicia Keller Boyle, LMFT, a therapist and CEO of
The Bad Therapist
, a website that helps therapists create thriving therapy practices. Before starting her business, she graduated from Pepperdine University as a low-income student. She shares her experience below.
What was your experience applying to colleges as a low-income college student?

I remember angsting over how to apply to college or afford to go. It was a scary time in many ways, and I felt like there was no room to make the "wrong" choice. I was raised by a single mom who worked as a house cleaner and massage therapist. She didn't have any money to help me with tuition.

I was accepted into every school I applied to, including UCLA and Berkeley, but decided to go to Pepperdine because there was a chance for me to graduate early due to having taken so many AP classes in high school. Due to academics and need, I was able to get quite a few grants and scholarships, but I still had to take out loans.

What are some underrated budgeting hacks you used?

At school I was very careful about every penny I spent, including meal points. I stopped drinking soda because I thought dessert would be more satisfying. I participated in the work study program and took a job in our campus museum. During summers, I moved back home and worked, usually taking multiple low-paying jobs.

How can low-income students seek out mentors or advisors who can provide guidance on their academic and career paths?

Ask. You'd be surprised that many people would be happy to help you and would love the opportunity to share their own stories and expertise. Look for people you admire and ask them to meet with you for a coffee or a video call. Ask them to share their story with you. Be a curious listener. If you hit it off, you ask them to be your mentor. Even if you get some no's, or it takes a while, keep on asking until you get a yes.

What strategies did you use to maintain your physical and mental health while working during college?

My college made therapy available to its students. One semester, I decided to go to the counseling center and was able to meet with a therapist for a few months. That was really helpful. Many colleges have special resources specifically for first-generation and low-income college students. You can talk to your academic advisor to help you get connected. Don't let embarrassment stop you from taking advantage of free resources. You've already faced significant challenges getting to where you're right now, so milk those resources for all they're worth!

When you're the first person in your family to go to college and you don't have a lot of money, it can feel like there isn't any room to experiment or make a mistake. If I had college to do over again, I would have taken some classes for fun instead of hustling through my major and graduating early. If I could give your younger self some advice, I'd say, "You don't have to be perfect. Have some fun."

How can low-income students ensure they have access to the necessary technology and resources for their coursework?

Look for scholarships specifically for low-income students and giveaways for tech supplies. Some companies offer discounts on laptops for students, and there are scholarships that are specifically to help students acquire the tech they need. Unless you plan to pursue an arts degree, you likely will only need a simple device to access the internet, research, and write papers. You can get a Chromebook for a few hundred dollars. Look to see if your school has a resource center for low-income students, or clubs or affinity groups that you qualify for. They may offer tutoring and technology resources that aren't available to the general student body. And whenever you see a gap in services, ask for it to be filled. You could spur changes at your institution that not only help you, but other students like you.

What steps should low-income students take to prepare for their careers while in college?

Talk about your dreams and goals. Make them known, and don't downplay your skills. One of the hard things about being a low-income student is that you may deal with insecurities. Though you may not be in the same financial situation as many of your peers, you get to be just as confident and sure of yourself. Learn how to speak about yourself in a way that puts your best qualities forward. Look for internships that align with your career. I studied psychology in school and got an internship at a local nonprofit. While there, I developed good relationships with the social work staff and managers. The next semester, while I was still in school, I was offered a part-time job. I used the experience in that job to help me get my first job right after school. Look for jobs that are in your career path and know you can keep on trading up for better positions. Nurture relationships wherever you go. Having a solid network can help propel your career forward.

How can low-income students prepare for and handle unexpected financial emergencies while in college?

If possible, get a part-time job just to have some cash coming in. Look for jobs on or near campus first to cut down the money you'd spend commuting to your workplace. Even if it's only a few dollars a week, get in the habit of setting some money aside. For the rest of your life, it will be helpful to have an emergency fund, and you can start right where you're at. Even if you're not able to save that much money right now, the habit will be immensely helpful.

How can low-income students address and overcome any social stigma or stereotypes they may encounter on campus?

Find other people like you who can relate to your unique challenges. This will be helpful in moments of stress when you need to vent and know that the person listening really understands your experience. But don't let your differences stop you from making friends with people of different socioeconomic levels. Know that wealthy students who have more money only have it because of the families they grew up in. They aren't actually better than you. You may have a lot more in common than you think, and spending time with peers of different socioeconomic levels could introduce you to new experiences and opportunities. There may be some tense moments when you get invited to a trip or dinner that's out of your price range. It's always possible that that could strain the relationship, but know that the best friendships will survive these moments.

On the off chance that you encounter someone who has an issue with your current socioeconomic level or is cruel to you, don't waste your time with them. Remember that their actions have way more to do with them than with you. Being a low-income student isn't who you are. It's just your current life circumstance. By going to college and pursuing a career, you are actively trying to change your socioeconomic status. You've taken a brave step to invest in yourself and pursue your dreams.