College can be daunting for any student. But if you're a transgender student, you may have to navigate a tangle of academic, mental health, medical, social, and even basic needs challenges while striving to find community and live authentically. And that's not even to mention the additional academic support you may want or need to succeed.
We're here to offer a lifeline — this comprehensive resource, organized by six essential subjects: financial aid and scholarships, academic support, mental health resources, medical assistance, basic needs, and finding community. This guide honors and acknowledges the struggles many trans students face and offers resources to help. We'll dig into these resources, providing guidance and insights for transgender students seeking safety and success in college.
Within each section, you'll find a curated selection of advocacy organizations and other resources that help transgender students like you overcome barriers, access support, and flourish in higher education. The path ahead may be challenging, but with the right support, you can navigate your educational journey with confidence and pride.
Financial Aid Resources
College isn't cheap, but a scholarship can help you fund your education. If you, like many transgender students, fear you'll struggle to cover your education expenses, this section is here to help: In it, you'll find various organizations that may have financial aid options, including organizations dedicated to supporting transgender college students through their college journey and beyond. These resources can lift the financial burdens associated with higher education, making a college degree more accessible.
This nonprofit, founded in fall 2001, was designed for student leaders and campus groups who collaborate to create inclusive educational environments for LGBTQIA+ students. A volunteer-run network, Campus Pride develops resources, programs, and services to support LGBTQIA+ students across the United States. At its website, you'll find an entire tab dedicated to research and grants, and the organization also hosts a scholarship database.
For the last 40 years, Human Rights Campaign (HRC) has worked to ensure that all LGBTQIA+ people, especially those who are trans and HIV+, have equal rights and treatment worldwide. Their mission is to inspire and engage individuals and communities to end discrimination against LGBTQIA+ people and to create a world in which everyone receives fair treatment. The website features a robust section devoted to scholarships.
The Point Foundation empowers transgender students to achieve their academic goals and make positive impacts on the world. The organization provides financial support, mentorship, and leadership training to U.S. college students. The Point's scholars work to improve representation of LGBTQIA+ people in all industries, securing equal access in all sectors.
This popular podcast, hosted by married couple David Auten and John Schneider, provides tools and resources to help you "live fabulously, not fabulously broke." The hosts provide queer listeners with the skills they need to life a lifestyle that provides true, personal satisfaction through financial literacy and security.
Transgender Legal Defense & Education Fund works to achieve equality for transgender people through public policy and education efforts as well as case-test litigation and direct legal services. The organization was founded in 2003 and is a registered nonprofit whose mission is to end discrimination and achieve equality for transgender people.
A youth-led advocacy organization, TSER works to transform educational environments for trans and gender non-conforming students. TSER was founded in 2011 and remains the only national organization led by trans youth. They offer various services, including scholarship and fellowship programs.
Scholarships for Transgender Students
For many transgender students, financial aid is a crucial aspect of funding a college education. You can, however, apply for grants, scholarships, and fellowships to offset the cost of higher education, reducing your student debt. This section provides some scholarship resources, including two databases where you can conduct your own research and find the scholarship programs that match your eligibility.
Amount: Varies
Eligibility: LGBTQIA+ and ally students
Deadline: Varies (search database for various scholarship deadlines)
Amount: $15,000
Eligibility: LGBTQIA+ youth filmmakers
Deadline: TBD 2024
Amount: Varies
Eligibility: LGBTQ+ and allied students at both undergraduate and graduate level
Deadline: Varies (search database for various scholarship deadlines)
Amount: Varies
Eligibility: LGBTQIA+ students who demonstrate promise for becoming a positive role model for LGBTQIA+ people
Deadline: TBD 2024
Amount: Varies
Eligibility: LGBTQIA+ students
Deadline: Varies (see website for chapter deadlines)
Amount: Varies
Eligibility: LGBTQIA+ students at accredited colleges and universities
Deadline: Varies (check website for various deadlines)
Amount: Varies
Eligibility: Exclusively for trans students
Deadline: TBD 2024
Mental Health Support for Trans Students
Transgender college students often experience mental health challenges such as trauma, anxiety, and depression due to discrimination, social rejection, violence, and the negative societal messages some outlets spread against gender non-conforming people. Here you'll find essential mental health resources, so you can find counseling and guidance should you need additional support on your college journey.
This organization provides training, coaching, and technical assistance to behavioral health practitioners on how to best support LGBTQIA+ people. While it's aimed at practitioners, the website offers a wealth of resources that anyone can access including a glossary of terms and educational content on gender identity and expression, all focused on best practices to decrease LGBTQIA+ behavioral health disparities.
Founded in 1971, Fenway Health offers mental health services and resources for the LGBTQIA+ community and people living with HIV/AIDS. Fenway was originally a drop-in clinic with limited services and is now a federally qualified community health center with over 700 staff and nearly 40,000 patients.
In its 11th edition, the GLAAD Media Reference Guide focuses on LGBTQ health and healthcare. The page highlights health disparities in the LGBTQ community, which stem from the lack of LGBTQ-focused medical training and discrimination in healthcare. Lesser-known LGBTQ issues are emphasized as well, including homelessness, monkeypox virus (MPV), abortion, and intimate partner violence.
Pride Counseling provides online therapy to the LGBTQ community, which experiences mental health issues at a higher rate than most groups. Discreet, affordable, and convenient, Pride Counseling's services are available via phone, video, and text messaging.
The Trevor Project provides 24/7, year-round support to LGBTQIA+ youth. Youth in crisis can call, text, or chat with one of the organization's trained counselors if they are feeling lonely or are considering self-harm or suicide. The Trevor Project also hosts a new international community for LGBTQIA+ youth between the ages of 13 to 24 called Trevor Space.
Transgender Pulse aims to stop the suicide epidemic of transgender people, as over half of transgender people have attempted to take their lives before the age of 20. Through its chat rooms, forums, and various additional resources, Transgender Pulse offers a lifeline for transgender people, including access to professionals trained in suicide prevention.
This grassroots hotline and nonprofit was created by the trans community for the trans community. Trans Lifeline offers direct support to trans people in crisis via its hotline. The website offers additional resources that include microgrants and a resource library.
Gender-Affirming Medical Resources
Transgender people face discrimination in every aspect of society, including classrooms and healthcare facilities. Gender-affirming medical resources are a necessary part of every trans person's ability to live healthy lives, whether or not they are transitioning. This next section offers resources for transgender college students seeking gender-affirming medical help.
The oldest and largest association of LGBTQ+ and allied health professionals, GLMA partners with policymakers to promote health equity in LGBTQ+ communities. They hold an annual conference in late September on LGBTQ+ health and are a dependable source of research, education, and advocacy.
A program of the Fenway Institute, this organization consults with healthcare organizations to optimize cost-effective healthcare for LGBTQIA+ people. The organization hosts two annual conferences each year to help advance their mission to enhance the well-being of the LGBTQIA+ community.
Planned Parenthood offers sexual and reproductive health services for people of all genders. This includes transgender people. Visit this page to find the location that's closest to you for physical exams, STD testing, birth control, and referrals.
This organization supports trans health by providing grants for trans people in financial need who are pursuing gender-affirming surgery. Named after a noted practitioner and teacher of group psychotherapy who was an ally to the transgender community, the Jim Collins Foundation raises funds to provide financial assistance to the transgender people who need gender-affirming surgery to live a healthy life.
Transgender Map is an accessible website that shows users how to make a gender transition at no cost. Visitors can learn about the social, legal, and medical paths to make the transition as well as a list of advocacy groups, ways to fund a transition, and resources for families.
WPATH is an interdisciplinary nonprofit devoted to transgender health through clinical and academic research. The organization develops evidence-based medicine and promotes increasing the quality of care for transgender people around the world.
Basic Needs Resources
Trans needs are human needs, and some transgender college students face challenges in meeting their basic needs — including food, shelter, and name changes. This section lists resources to help you help you meet your basic needs.
Rooted in social justice, the Equality Federation is an advocacy accelerator that builds power in their network of state-based lesbian, gay, bisexual, transgender, and queer advocacy organizations. You'll find lists of resources and descriptions of state legislation at this robust website.
A program from GLBT National Help Center, the GLBT National Resource Database is the largest online collection of gay, lesbian, bisexual, and transgender resources. These include social and support resources, community centers, and youth groups, among other resources. Visit the site and you can enter your zip code and desired category to find resources closest to you.
In addition to resources on dental, food, and rehab care, this directory helps trans students experiencing homelessness to find shelters and resources that are LGBTQIA+ friendly.
NCTE offers resource for trans people by advocating to change policy and society to increase understanding and acceptance of transgender people. The site helps visitors understand their basic rights to healthcare and beyond.
This network describes itself as a healing justice organization, with a goal of transforming mental healthcare for trans people of color by integrating healing in the social justice and mental health spaces. Their website features a directory for those looking for therapists, and therapists can join the directory to provide support to queer and trans people.
SNAP is a government program that offers support to students who experience financial insecurity. Eligibility and requirements vary by state, but eligible applicants receive financial assistance to purchase food.
Transgender Legal Defense & Education Fund's Name Change Project offers legal name change services to low-income transgender people at no cost. These pro bono legal services are funded by prestigious law firms and corporate law departments, allowing transgender people to match their gender identities with their legal ones.
This website is a growing resource for students and athletes to find information about trans inclusion in athletics. The site's accessible reference areas help you find the information you need, as the resources and policies are neatly categorized.
This organization works to change policies and attitudes so that transgender people can live safe, authentic lives, free from discrimination. Grounded in legal expertise, the Transgender Law Center is the largest national trans-led advocacy organization.
Finding Community as a Trans College Student
A community of like-minded peers gives you a foundation of support and can help you build confidence as you step into your authentic self in college. So it's essential that you build a supportive community, which can improve the well-being and success of all college students. Here are some resources to help you connect with like-minded peers, both in person and online.
This page at Iowa State University's Center for LGBTQIA+ Student Success offers an FAQ to help trans and gender non-conforming students find community and support on campus. The FAQ also serves as a guide for students at other campuses to either find support at their school or advocate for similar resources.
This fraternity was founded by queer men who wanted to make the fraternity experience accessible to all men and nonbinary college students. Fraternity members share values of justice, service, and excellence to enhance quality of life among men, strengthening friendship through diversity, purposeful service, and recreational activities.
This inclusive social sorority provides a network of scholastic guidance, emotional support, and community services while developing lifelong relationships. It operates under the guiding principles of tolerance, diversity, unity, and trust.
Gay & Sober provides a safe, enriching experience to the sober LGBTQ community. You can visit the website to daily gay & sober meetings in your location. The website features an events calendar as well.
This global nonprofit began in 2010 and now reaches millions of young people each year. Through inspiring media programming and educational resources, as well as international affiliates in 19 countries, the It Gets Better Project provides hope and encouragement to LGBTQIA+ people and their allies worldwide, promoting dignity and equality.
This list of LGBTQIA+ student organizations at Northern Kentucky University serves as a vital resource for any student at the school looking to find community. Students at other universities can use this list as a model for searching their own schools' websites — or to advocate for similar resources at their school and in their communities.
This website offers guidance on how to join a community of asexual (ace) and aromantic (aro) people, otherwise known as an Aspec community. You'll find resources and terminology explanations at this website, and you can also connect with others via their monthly pride chats.
Interview with a Transgender College Student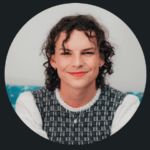 Jade Adams
We sat down with Jade Adams to discuss her experience as a trans college student and beyond. Jade is currently a Senior Analyst at Oscar Health working in data science. She graduated with a BA in Business Economics from UCLA and is currently taking additional classes at her local community college. She has been transitioning for nearly three years.
What are some resources you used as a transgender college student to support your academic and personal success?

Something I struggled with when I was in my bootcamp program for data analytics was that there's no resources for whether an employer had trans inclusive healthcare. This was something I asked the alumni and career center support about, and they threw their hands up at me. Just nothing. So, I ended up in a job without trans-inclusive healthcare.

But then I went to Reddit and asked people to share the companies they work for that have trans-inclusive healthcare. I asked them to show me proof. That way, I built a comprehensive national list of companies that have trans-inclusive healthcare on Reddit. Reddit was really helpful. I know the HRC is helpful in that regard — the Human Rights Campaign now has more stringent requirements on how it rates companies as LGBTQ friendly.

Are there any books, articles, or websites that you would recommend to transgender students starting college?

Because there is such a strong overlap with neurodivergence and transness, I recommend people read "Unmasking Autism"by Dr. Devin Price as a starting point. A lot of college students are coming out of transphobic environments — and becoming adults, it's important to take stock in how you might be affected by childhood and mental health struggles. As far as books directly related to transness, there's a book I just read called "Before We Were Trans" that gives thousands of years of history off transness across the world.

Reading these books gives strength for when people stress you out because they aren't respecting you and your transness. You can rest assured that you are part of a long line of history, and you're meant to be here.

Looking back, what resources do you think would have been especially helpful to you during your college journey that were not readily available?

I didn't know any trans people at all when I was in undergrad. I was a closeted trans woman. I struggled academically due to the stress of being closeted. I had severe mental health issues, burnout, nearly dropped out. Withdrew from a quarter once. So honestly, it would have been nice to have more education about resources for trans and gender-nonconforming people.

More visibility would have been nice. For a lot of us, when we go to college, we're escaping our conservative hometowns for the first time. I'd known I'd been trans since fourth grade, but the resources weren't there for me to transition.

At UCLA, I didn't know the student health insurance plan had trans inclusive resources and inclusive healthcare. It would have been very helpful if that information had been more readily available. I started transitioning in 2020 after I graduated in 2019. I felt like it was way too difficult to even manage a transition during college, which is really sad because college could be one of the easiest places to do that for some students.

How can trans students connect with the resources they need in college whether online or on campus?

They definitely need to get on the websites Grindr and Lex and start using peripheral locational stuff. That's how I survived any new situation. In college, I learned that these can be hubs. These very hegemonic systems we live in want you to battle alone as a trans person and to feel weak and fall through their loops, no matter how painful and time-wasting it is. The best thing you can do is connect with other trans people.

Editor's note: We want to add that connecting with your school's LGBTQIA+ groups can also be a good way to find information you need and potentially meet other trans students.

What steps, if any, did your school take to combat transphobia?

The school I'm in now has preferred names available, which is cool. You can update your gender without having to go through legal process change. I currently go to LaGuardia Community College. I don't think they have a lot besides having pride flags. Bathrooms are still gendered. UCLA had a trans floor. If you're trans, they move you to that floor.

My data science bootcamp gave the standard "everyone is included" kind of statements and posted the inclusive pride flag. That helped with basic visibility, but beyond that, there wasn't a lot of education and discussion in classes about why we should respect trans people. There's a lot of misgendering going on in any institution.

Do you feel that your college was set up to support your academic and personal growth as a transgender student? If so, in what ways? If not, what could they have done, in your view, to support you?

We talked about how my undergraduate university failed on a number of fronts. Excluding trans people to a trans floor and not deconstructing gender and sex in the rest of the campus goes towards hiding the healthcare inclusivity options. Also, taking other forms of oppression seriously but dismissing transphobia as a "one-percenters" issue.

There's always that dismissal, but trans issues are every person's issue, and this needs to be recognized as an intersectional thing. I didn't see them take seriously the spread of HIV or the fact that 10% of our students were homeless, surely with a higher percent of those students as trans. Same with my data science bootcamp with regards to considering that trans alumni aren't welcome in many states and don't have access to complete healthcare at most companies. But there's a laissez-faire, figure-it-out-yourself attitude among STEM people.

Is there anything specific you would like to share with our readers about your experience as a trans college student? Any questions you'd wished we asked or advice you'd like to give to current trans students?

I think the story of me having to build a national database on Reddit— and this was a big deal; it was the most liked post on r/transgender for over a week. But the fact that me, in 2021, had to create a list of scratch shows that no one is really doing anything for us. That was the shocking thing, that there's absolutely no record of companies doing the right thing.

The HRC does it now, but their list still needs improvement. For example, their list has a points system. If you get enough points — if you have enough of the trans-inclusive items — you can get a 100% score for trans healthcare inclusivity. But that's not how things really work.

If a trans person who is dysphoric about their hair but not dysphoric about their genitalia or their breast or face works for a company that covers those three things but not hair, then you still have a very dysphoric trans person. So trans healthcare needs to be inclusive to include electrolysis, top surgery, bottom surgery, mental health care, access to HIV medications — all of the things.